You've probably noticed that I've been MIA for much of the summer. One of the reasons is that this blog's namesake, Meggie, has been very ill. She's in renal failure but is getting some intensive nursing care here at home that included giving her IV fluids under her skin twice a day. She has improved quite a bit and now only has to have the fluids every other day. Poor Megs; no more snacks and treats including her favorite, ice cream.
She and I have been together for nearly 19 years of perfect companionship. She's taken good care of me and I'll do the same for her for the time we have left together.
Our veterinarian is very compassionate and will tell me when it's time to let her go.
So, I thought you might want to see the cat who chose me.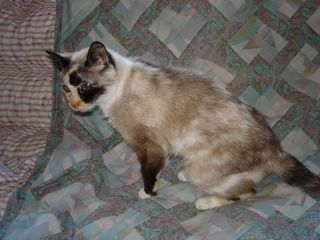 I'll get back to normal soon. I'm about a month behind responding to e-mail and hope that everyone will understand. Thanks for letting me share.